What do these papers mean?
Order to Show Cause for Name Change (form NC-120)
If you received an Order to Show Cause—Change of Name (form NC-120) from your child's other parent, it means that they are asking the court to change your child's name. 
The court set a date to hear from both sides (a hearing) before making a decision. 
Hearing date and location
The date, time, and location are on item 2.
Your child's name may be changed on this date if you don't respond before the hearing.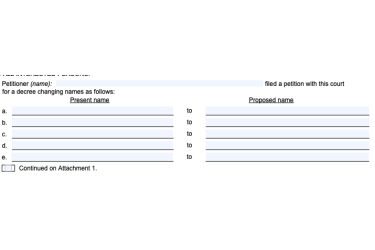 The new name they want for your child
Item 1 says what your child's name is now, and what the other parent is asking to change it to.
The reason they want to change the name is listed on item 7(c) of the 
Name and Information about the Person Whose Name is to be Changed
 (
form NC-110
), which should be attached to 
Petition for Change of Name 
(
form NC-100
). If you didn't get a copy of these papers with the
Order,
you can ask the other parent for a copy (unless there's a restraining order). Or, you can get a copy from the court.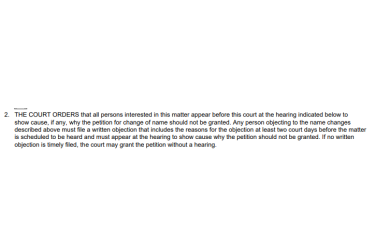 What to do if you want to respond
If you don't agree
If you disagree, you must respond to the court in writing at least 2 court days before the hearing. A court day is a day the court is open (Monday through Friday, not including court holidays). Then, you can go to the hearing and the judge will hear from both sides. This site has step-by-step information on how to file a response.
If you don't respond by the deadline, the hearing may get canceled and the judge may sign the order changing your child's name without you having a say. 
You do not have to do anything. As long as your child's other parent followed all the steps required, the judge will likely give (grant) the order changing name. If you want, you can file a written statement saying you agree. Then, the court may cancel the court date and agree to change your child's name. 
This website has information to walk you through the basic process. But you may need more help. If so, you can start with the court's Self-Help Center. Self-Help Centers offer free legal information.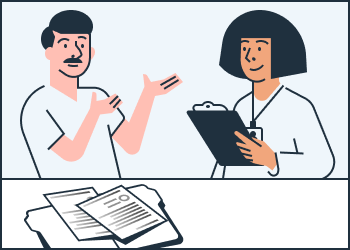 If you decide not to respond, there is nothing for you to do. 
If you decide to respond, you need to file a written response 2 court days before the hearing.